Our Partnerships & Resources
We work with many different organizations who help focus in on the same goal: to help preserve lands around Green Lake and to bring awareness to the environment. Below is the list of organizations we have worked with time and time again and will continue to work with them into the future. Take a look at their organizations and see how their goals align with ours to help preserve special places around Green Lake. We appreciate your support.
Together we are better. Having strong local partnerships ensures that we can all do what is best for the Green Lake Watershed, its citizens and the surrounding area. Listed below are some of the Lake Partners that we have worked with:
Our Mission: To engage in activities that preserve, improve, and protect the natural resources of Big Green Lake and its Watershed.
The Green Lake County Land Conservation Department provides conservation planning assistance and technical service in the area of soil and water conservation to landowners, land users, and decision makers of Green Lake County. 
The mission of the Green Lake Association is to promote the conservation of Big Green Lake and its watershed. Our projects and activities focus on the following issues:
Aquatic habitat and fisheries
Aquatic invasive species
Recreation
Water quality
Watershed education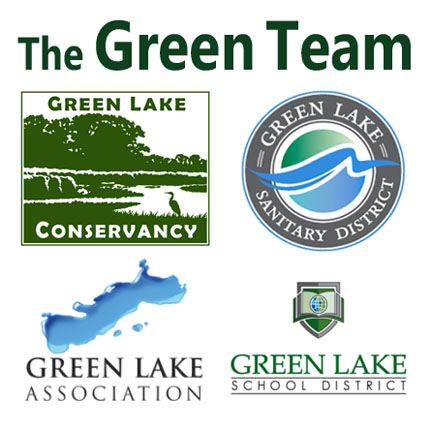 The Green Team is a collaboration between four Green Lake organizations, with the goal of combining their efforts to create fun social and educational events for the public – as well as organizing volunteers for work days on Conservancy properties.
The Green Lake Bird and Nature Club was formed in 2015, with the goal of gathering bird and nature enthusiasts from the area to learn more about the natural world.  Monthly meetings are held at Town Square, as well as periodic field trips, and the annual Green Lake Bird Festival on the last Saturday in April.
We partner with larger organizations that has a further reach. Some of our partners include: Wisconsin DNR, Gathering Waters, The Land Trust Alliance, NRCS, and other agencies.
Gathering Waters Conservancy's mission is to help land trusts, landowners and communities protect the places that make Wisconsin special. Our goal is to increase the amount of protected land in Wisconsin through private, voluntary action.
To save the places people love by strengthening land conservation across America.
NRCS helps America's farmers, ranchers and forest landowners conserve the nation's soil, water, air and other natural resources. All programs are voluntary and offer science-based solutions that benefit both the landowner and the environment.
The Department of Natural Resources is dedicated to preserving and enhancing the natural resources and environment of Wisconsin. It manages state fish, wildlife, forests, parks, air and water resources, and environmental protection.